LIHI Certificate #124 – Comtu Falls Project, Vermont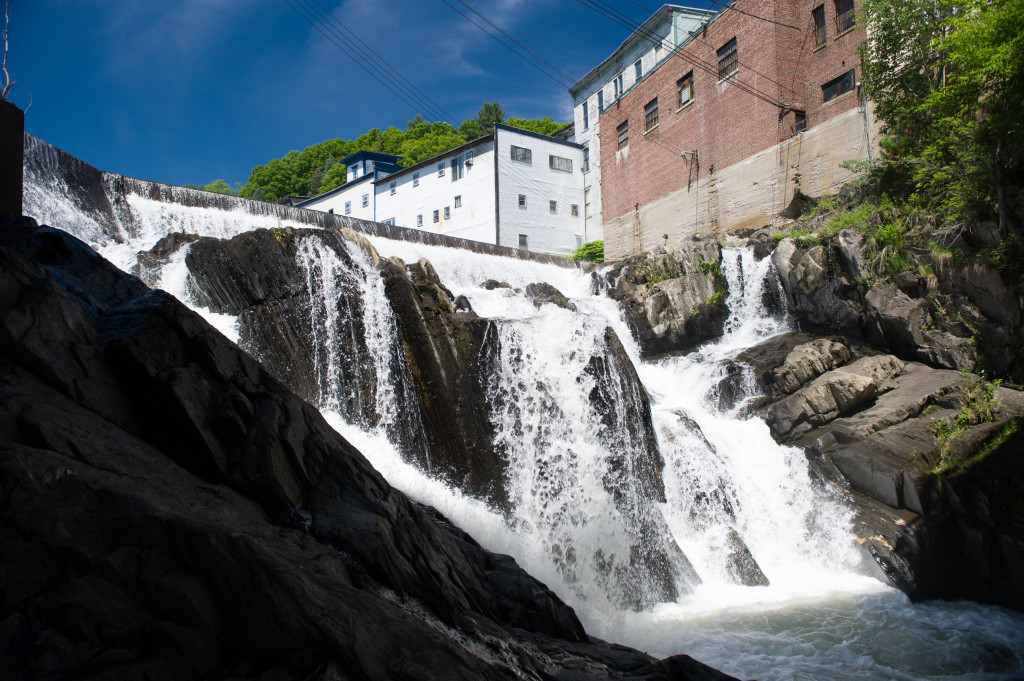 The Comtu Falls Hydroelectric Project is located on the Black River on Mile 4.4 in Springfield, Vermont. Throughout a ¾ stretch of Black River in Springfield, there are 5 hydro facilities. The project is located approximately ¼ mile upstream of the Slack (P‐8014) and Lovejoy (P‐9649) impoundments, and 1/3 miles downstream of the Fellows (P‐9648), Gilman (P‐9650) project. The Facility is 4.5 miles upstream of the confluence of the Black River with the Connecticut River. The Black River is 40 miles long, and drains a basin of approximately 202 square miles. The River originates in the Black Pond in the town of Plymouth, VT, and is joined by several tributaries before it enters the Connecticut at Hoyt's Landing. Flows on the Black River are impacted by release schedule from the upstream U.S. Army Corps of Engineers North Springfield Lake Dam, and the existence of the hydroelectric facilities along the reach. The average flows are approximately 345 CFS, and the rapids and dams immediately upstream of Comtu Falls create high dissolved oxygen (DO) levels in the project area.
The Comtu Falls Project has a rated capacity of 460 KW and produces an average of 2,300 MWh annually. The reservoir occupies 0.4 acres of surface area, and the total footprint of the physical facility is approximately 2,500 square feet. The project is located directly in the urban center of downtown Springfield, Vermont, and is surrounded by industrial buildings up to the water's edge on all sides.
Project works consist of: (a) the 4‐foot high, 128‐foot long concrete gravity dam (low‐hazard) with crest elevation of 392 feet mean sea level, tapering from 5.5 feet high at its western end to nothing with irregular bedrock comprising the last 17‐18 feet, situated on the top of a natural falls; (b) 2‐foot high flashboards over 74 feet of the dam; (c) impoundment of 0.4 acres; (d) intake structure at the west side of the dam having 1.5‐inch clear bar spacing and set at 45 degree angle to intake; (e) 6×6‐foot, 65‐foot long reinforced concrete penstock; (f) powerhouse with a 250‐KW and 150‐KW turbine‐generator units; (g) 600‐volt induction generator leads, a 600/4, 160‐volt, 300‐kVA transformer bank, 2,400 volt synchronous generator lead, 2,400/4,160‐volt, 500‐kVA transformer bank, 20‐ft long, 4,160‐volt transmission line; (h) fish passage facility consisting of a 2.5 foot wide by 2.0 foot high discharge weir at west abutment of dam and trashrack, leading to 3‐foot deep plunge pool; and (i) other appurtenances.
| | |
| --- | --- |
| Project Name | Comtu Falls |
| LIHI Certificate No. | 124 |
| LIHI Certificate Term | July 10, 2015 - July 10, 2020, extended to April 15, 2021 |
| Owner | Comtu Falls Corporation, a subsidiary of Gravity Renewables, Inc. |
| State | Vermont |
| Location | Located at river mile 4.4 on the Black River in Windsor County, Vermont. |
| Installed Capacity | 0.46 MW |
| Average Annual Generation | 2,300 MWh |
| Facility Type | Run-of-river |
| FERC No. | P-7888 issued 1986, expires 2026 |
---
Certification History
December 23, 2015 – LIHI Executive Director Michael J. Sale, using authority delegated from the LIHI Governing Board and a full review of the Application Reviewer's report and all public comments and additional materials provided by the Applicant, has certified that the Comtu Falls Hydroelectric Project (FERC No. P-7888) satisfies the LIHI Certification Criteria.  A Preliminary Decision was announced on October 12, 2015, and a 30-day appeal period was open through November 12, 2015. No requests for appeal were received. This Certification Decision includes one facility-specific condition, as follows:
Condition 1. The Owner shall operate the downstream fish passage facilities annually from April 1 through June 15 and from September 15 through November 15.
The effective certification date for the Comtu Falls Project is July 10, 2015 for a five (5) year term, which will expire on July 10, 2020.
July 13, 2015 – On July 10, 2015, the Low Impact Hydropower Institute (LIHI) received a complete application from Comtu Falls Corporation, on behalf of Gravity Renewables Inc.,  for the Low Impact Certification of the Comtu Falls Hydroelectric Project, FERC P-7888, located on the Black River in Windsor County, Vermont.