Current and Upcoming Activities:
Small Hydro Buyer's Workshop: Bend, OR – August 22, 2019 at the Riverhouse on the Deschutes
Oregon is the place and now is the time for energy buyers to add hydro to their energy buying strategy. We invite you to come learn, what, how, and why. FREE education, food, tour and drinks provided. Register at: https://bit.ly/2LURdjw."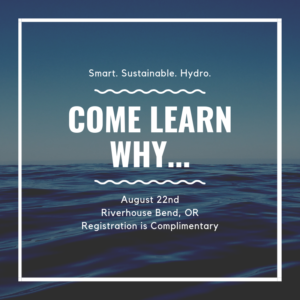 Renewable Energy Markets (REM) 2019, San Diego, CA – September 4-6, 2019
LIHI is proud to be supporting REM 2019. The annual Renewable Energy Markets (REM) conference convenes a broad spectrum of industry professionals who are rapidly transforming the global clean energy marketplace. REM brings corporate leaders, policymakers, and suppliers together to collaborate and guide the rapidly expanding market. Attendees explore emerging trends in policy, exchange best practices in renewable energy procurement and marketing, review the latest technology and market innovations, and help shape the future for renewable energy!
LIHI Annual Board Meeting 2019, Lawrence, KS – October 16-18, 2019
LIHI's Governing Board will be convening in Lawrence, KS for its 2019 Annual Board Meeting. On top of talking all things low impact hydro, the group will be visiting LIHI Certified Facility #15 Bowersock Mills!
Past Events and Resources:
Shannon Ames, LIHI Executive Director presented "Low Impact Hydropower Certification – Sustainability 101" at the North Shore Technology Council Sustainability Forum Luncheon on Thursday, May 10th in Beverly, MA.
LIHI held its first ever regional Hydropower Forum in Boston on February 8, 2018. View summary and presentations.
Read Mike Sale's and Dana Hall's report "The LIHI Experiment: Certifying "Green" Hydropower since 1999" (Sale-Hall Proceedings Paper 7-20-16 final), presented by Mike Sale at Hydrovision, 2016.
LIHI was featured on a webinar panel presented by the Clean Energy States Alliance (CESA) on Tuesday, February 2, 2016. The webinar, presented by CESA's State-Federal RPS Collaborative, explores the role and treatment of hydropower in RPS across the country. Click here to view
Renewable Energy Markets for Hydropower: Fact or Fiction? by Dana Hall presented on the Renewable Energy Markets panel discussion at HydroVision International 2015.
For a presentation on the LIHI program and the role in green markets, please watch Low Impact Hydropower, a Pathway to Green Markets from the Center for Resource Solutions on Vimeo.