LIHI Certificate #119 – Texon (Crescent) Hydroelectric Project, Massachusetts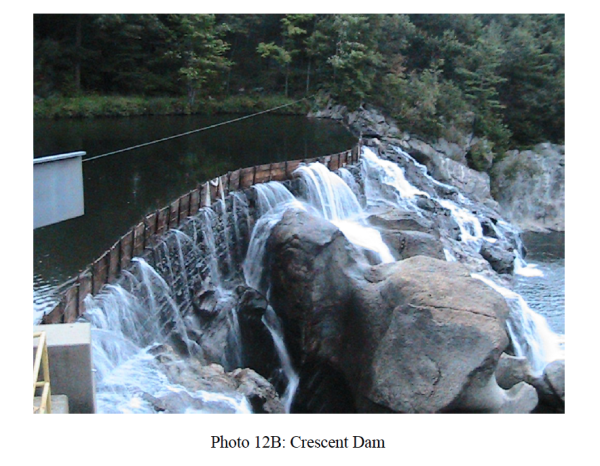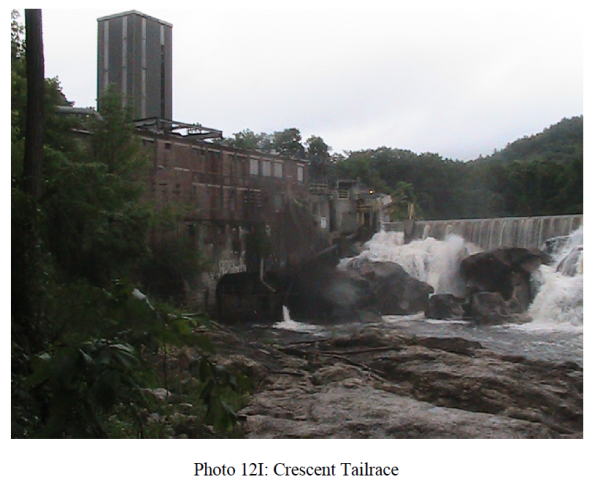 The Texon (formerly known as Crescent) Project is located on the Westfield River on Mile 24 between the town of Russell and Huntington, MA. The project is located approximately 6 miles downstream of the Army Corps of Engineers Knightville Dam (non-hydroelectric) and 2.5 miles upstream of the Indian River Hydroelectric Project (FERC #12462.) The Project has a 1.5 MW rated capacity and produces 5,600 MWh in average annual generation.
The project impoundment has a reservoir volume of 12 acre-feet with a surface area of 3 acres. Approximately 3 acres are inundated by the facility. The project works are laid out over approximately 0.5 acres of non-reservoir facilities. Works consists of: (a) a 250 wide 12 foot high masonry gravity dam comprised of stone blocks and concrete with 3 foot high wooden flashboards; (b) an angled bar rack intake; (c) a downstream fish passage collection chamber and bypass pipe (details in VII.C "Fish Passage"); (d) a trash sluice; (e) concrete inlet channel and forebay; (f) a single unit (Kaplan) powerhouse with installed capacity of 1.5 MW; (g) substation; (h) a canoe portage; and (i) appurtenant facilities. The project is adjacent to an abandoned mill on the western side and a railway on the eastern side. The riverbanks immediately downstream are bounded by exposed bedrock outcrops. Access to the river downstream of the project is located on the eastern embankment of the tailrace and serves as a put-in for canoers and fishermen. The powerhouse is adjacent to the dam so the bypass reach is minimal.
| | |
| --- | --- |
| Project Name | Texon (Crescent) |
|  LIHI Certificate No. | 119 |
| LIHI Certificate Term | March 13, 2015 - March 13, 2020, extended to April 15, 2021 |
| Owner | Hitchcock Hydro, LLC |
| State | Massachusetts |
| Location | Located on river mile 24 on the Westfield River in the town of Russell, Hampden County, MA. |
| Installed Capacity | 1.5 MW |
| Average Annual Generation | 5,000 MWh |
| Facility Type | Run-of-river |
| FERC No. | P-2986 exempt 1982 |
The project is operated in an run-of-river mode. The project is manned during normal business hours and unmanned during the nighttime hours. Generally, the operator reviews the status of three upstream USGS stations for river flow verification, and reviews the status of the downstream fish passage facilities and trashracks. Project operation is automated (both on and off) with alarm dial out during any unusual occurrences (e.g. station trip, low level alarm). Units automatically cycle between the maximum 700 cfs unit hydraulic capacity down to the minimum hydraulic capacity of 165 cfs. When in operation (generally between April 1 through July 1 and from October 15 to ice-in) 20 cfs is released through the downstream passage system. The SCADA records all pertinent information on generation and water levels and this info is available upon request from the Applicant.
---
Certification History
January 12, 2021: The Low Impact Hydropower Institute has received a complete application for Low Impact recertification of the Texon Hydroelectric Project located on the Westfield river in Massachusetts. The complete application can be found below. LIHI is seeking public comment on this application. Comments that are directly tied to specific LIHI criteria (flows, water quality, fish passage, etc.) will be most helpful, but all comments will be considered. Comments may be submitted to the Institute by e-mail at comments@lowimpacthydro.org with "Texon Project Comments" in the subject line, or by mail addressed to the Low Impact Hydropower Institute, 1167 Massachusetts Avenue, Arlington MA 02476. Comments must be received on or before 5 pm Eastern time on March 13, 2021 to be considered. All comments will be posted to the web site and the applicant will have an opportunity to respond. Any response will also be posted.
June 15, 2015: Executive Director Michael J. Sale, using authority delegated from the LIHI Governing Board and a full review of the Application Reviewer's report and all public comments and additional materials provided by the Applicant, has determined that the Crescent Hydroelectric Project (FERC No. 2986) meets the LIHI Certification Criteria. The effective certification date for the Crescent Project is March 13, 2015 for a five (5) year term, which will expire on March 13, 2020, with the following condition:
Condition satisfied in 2018. The Facility Owner shall install upstream eel passage facilities as required by Massachusetts Division of Fisheries and Wildlife (MDFW) by July 15, 2016. The applicant shall work in collaboration with MDFW to install temporary eelways during summer of 2015 to find the right locations, prior to finalizing the permanent upstream passage by date listed above.
March 16, 2015: On March 13, 2015, the Low Impact Hydropower Institute (LIHI) received a complete application from Littleville Power Company, Inc., for the Low Impact Certification of the Crescent Project, FERC P-2986, located on the Westfield River in the town of Russell, Hampden County, Massachusetts.
Files:
2021 Recertification
2015 Certification