LIHI Certificate #138 – Dundee Project, Maine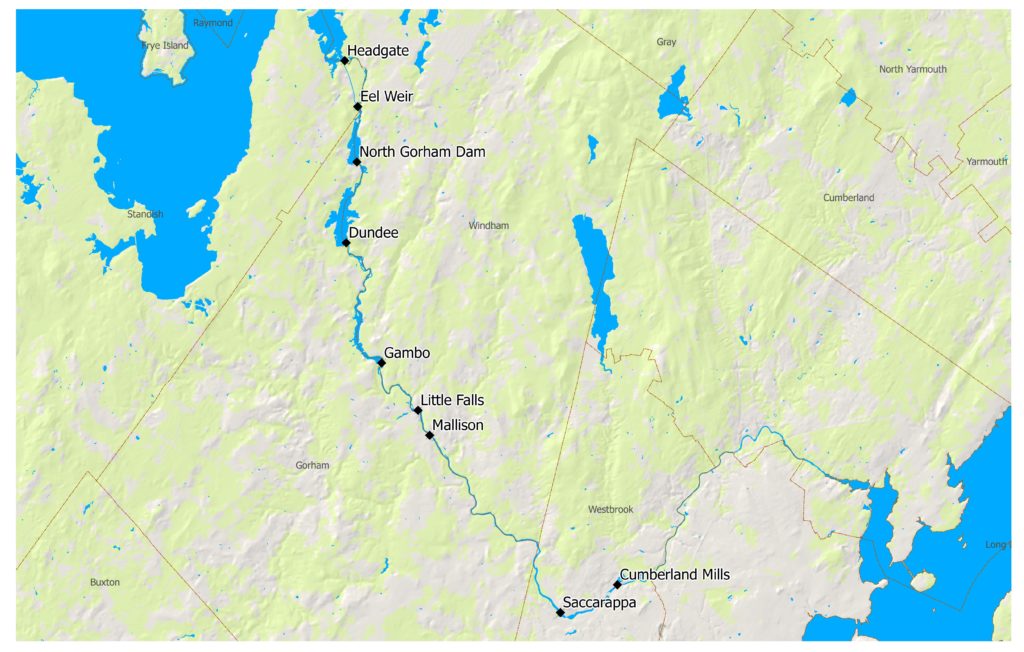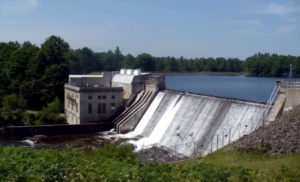 On the Presumpscot River there are eight hydroelectric facilities between Sebago Lake and the Atlantic Ocean in Portland, Maine. The Dundee project was originally constructed in 1913 and is the third hydro project downstream of the Sebago Lake outlet.
The Dundee Project, which operates in a run-of-river mode, consists of the following features:
a 1,492-foot-long dam, comprised of a 175-foot-long, 50-foot-high earthen east embankment, a 1,050-foot-long, 50-foot-high earthen west embankment, a 90-foot-long concrete non-overflow section, a 150-foot-long, 42-foot-high concrete spillway, and a 27-foot-long gated concrete canal intake structure;
a 44-foot-wide by 74-foot-long reinforced concrete powerhouse integral to the spillway section of the dam containing three horizontal Francis turbines direct-connected to the generators, each with an installed capacity of 800 kW for a total project installed generating capacity of 2,400 kW;
a 1,075-foot-long bypass reach between the dam and the downstream end of the tailrace channel; The lower 200 feet of the bypass reach is backwatered by the downstream Gambo Project impoundment;
a 1,075-foot-long, 30-feet-wide and 11-foot-deep tailrace channel;
a 1.7-mile-long impoundment extending from the Dundee dam upstream to the tailwaters of the North Gorham Project, with a surface area of approximately 197 acres; normal pool elevation of 187.22 feet USGS datum, and no storage; and
an eel lift installed in August 2007.
Project powerhouse equipment is original, although some upgrades have been made since its original operation. Equipment changes since 1913 include replacement of one excitor (date unknown), replacement of a governor (c. 1969), and rewinding of the generator units (c. 1997). The Dundee dam has undergone more significant changes since original construction in 1913, including reconstruction and raising of the east embankment, raising of the west embankment, resurfacing of the spillway section, and installation of rock anchors, most completed in 1990. Additional concrete repairs were done in 2012.
Project Name
Dundee
LIHI Certificate No.
138
LIHI Certificate Term
 September 5, 2017 - September 4, 2022
Owner
Sappi North America, Inc.
State
Maine
Location
Windham & Gorham, Cumberland Counties River mile 21.9 on the 

Presumpscot River

Installed Capacity
2.4 MW
Average Annual Generation
16,000 MWH
Facility Type
run-of-river
FERC No.
P-2942 issued 2003, expires 2053
---
Certification History
March 5, 2018 – The 30-day appeal window closed for the preliminary certification decision of the Dundee Hydroelectric Project closed on March 1, 2018 with no appeals to the decision received. The decision is therefore final and Dundee is LIHI Certificate #138. The Certificate term will be September 5, 2017 – September 4, 2022. The certificate includes the following conditions:
Condition 1:The Owner shall notify LIHI when the modifications to the Project to improve upstream eel passage are completed and submit copies of MDMR and USFWS comments related to whether these modifications are sufficient, and/or if additional effectiveness testing is required to confirm that eels are safely passing upstream at the Project. If additional testing is required, the schedule and final results along with agency comments on the report, agency recommendations for modifications, and plans and schedule for any needed modifications to shall also be provided to LIHI.
Condition 2: The Owner shall update LIHI on the following activities in the annual LIHI compliance statement:
The status of Condition 1 above.
The status of upstream and downstream anadromous fish passage activities at the Project and at the Saccarappa Project. The updates should include summaries of agency and stakeholder consultation and recommendations made, any changes in the fish passage plans from those described in the LIHI application, and any changes in passage requirements or the timing of implementation at both Projects. LIHI reserves the right to suspend its certification if the agencies do not determine that safe passage at the Project is being provided and that such passage needs have not been waived.
A summary of any consultation with MIF&W and/or USFWS related to state or federally listed species identified as possibly occurring at the site that could be impacted by construction activities or non-routine operations or maintenance activities. This would also include impoundment drawdowns that would expose a significant portion of the river bottom, and any activities affecting lands outside of the existing 100-foot conservation buffer zone adjacent to the impoundment, among other non-routine activities. A summary of the relevant triggering activities and the measures implemented during the year to protect such species shall also be provided.
January 30, 2018 – On January 24, 2018, the Low Impact Hydropower Institute (LIHI) preliminarily approved Low Impact Certification for the Dundee project. This decision is preliminary pending the 30-day appeal window. Only those who commented in the initial application 60-day comment period are eligible to file an appeal. Such appeal needs to include an explanation as to how the project does not meet the LIHI criteria. Appeal requests can be submitted to comments@lowimpacthydro.org. Requests must be received by 5:00 pm Eastern time March 1, 2018.
September 7, 2017 – On September 7, 2017, the Low Impact Hydropower Institute (LIHI) received a complete application from S.D. Warren Company d/b/a Sappi North America for the Low Impact Certification of the Dundee Project, FERC No. P-2942, located on the Presumpscot River.
LIHI is seeking comment on the Dundee application for certification. Comments that are directly tied to specific LIHI criteria (flows, water quality, fish passage, etc.) will be most helpful, but all comments will be considered.  Comments may be submitted to the Institute by e-mail at comments@lowimpacthydro.org with "Dundee Project Comments" in the subject line, or by mail addressed to the Low Impact Hydropower Institute, 329 Massachusetts Avenue, Suite 2, Lexington, MA 02420.  Comments must be received at the Institute on or before 5 pm Eastern time on November 7, 2017 to be considered.  All comments will be posted to the web site and the applicant will have an opportunity to respond.  Any response will also be posted.