LIHI Certificate #129 – North Gorham Project, Maine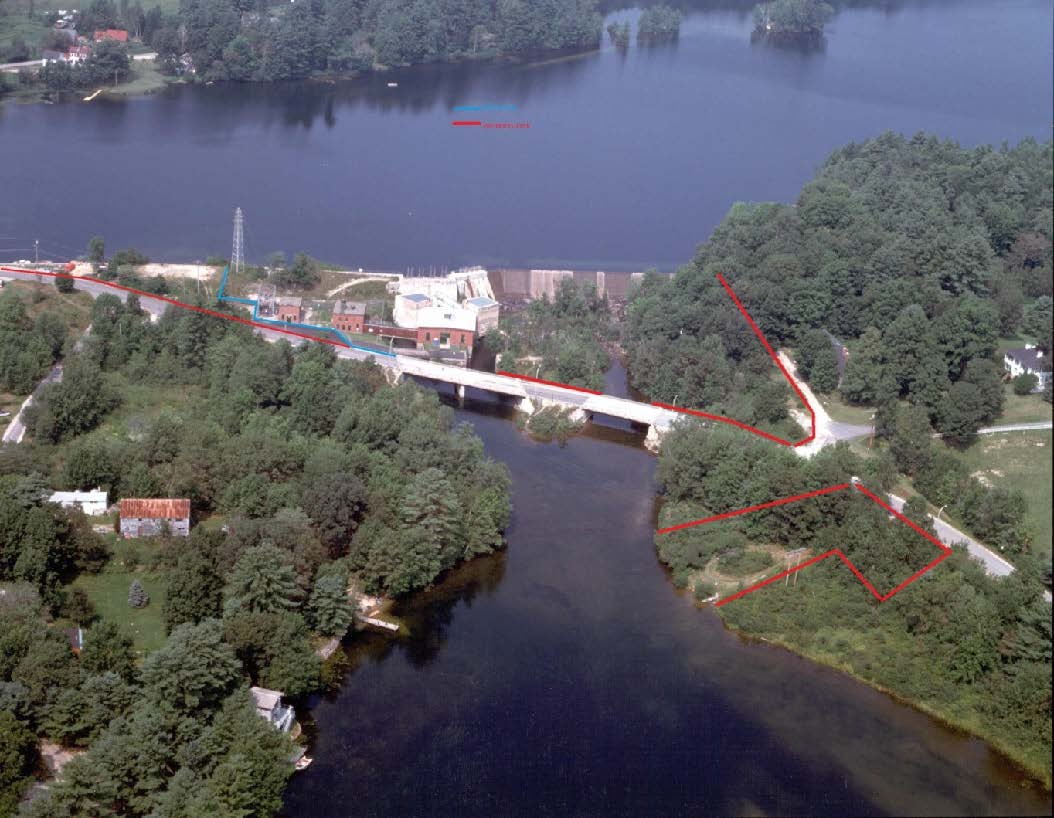 Brookfield White Pine Hydro's North Gorham Hydroelectric Project is a run-of-river hydroelectric generating facility located on the Presumpscot River in Gorham, Standish, and Windham, Maine with a gross nameplate generating capacity of 2.25 MW. The North Gorham Project commenced initial commercial operations in 1925.
The Project consists of a non-overflow wall, intake, deep sluice gate section, spillway, sluice gate, and a concrete abutment. The non-overflow masonry wall extends from the west shore about 600 ft 6 in. to the intake structure, and is constructed to elevation 225.5'. It is backed by earth fill. The deep sluice gate section is 47 feet long with the top at elevation 225.5' with four submerged gates, 4 ft wide by 5 ft high. The sills of the gates are at elevation 200.4'. The concrete spillway section extends from the deep sluice gate section in a northeasterly direction for 25ft 6 in. and then an additional 231 ft in an easterly direction. Maximum height of the structure is approximately 24 feet. Crest of the spillway is at elevation 221.8'. A sluice section, measuring 15 ft 3 in. in width and containing a sluice measuring 3 ft 9 in. wide, with sill elevation at 217.9', lies next to the east abutment. The sluice was recently sealed with concrete to elevation 221.8'. The east abutment, consisting of a cutoff wall 38 ft long, extends from the sluice to high ledge, elevation 225.5'.
The North Gorham Project generates clean, renewable electricity while providing recreational opportunities, fish passage measures, consistent water levels that enhance habitats for waterfowl, etc., and substantial support of the local community through stable property tax payments, reliable voltage support of the electrical distribution system, etc.
| | |
| --- | --- |
| Project Name | North Gorham |
| LIHI Certificate No. | 129 |
| LIHI Certificate Term | April 27, 2016 - April 27, 2021, extended to August 31, 2021 |
| Owner | Brookfield White Pine Hydro, LLC |
| State | Maine |
| Location | Located at river mile 23.6 on the Presumpscot River in Gorham, Standish, and Windham, Maine. |
| Installed Capacity | 2.25 MW |
| Average Annual Generation | 10,403 MWh |
| Facility Type | Run-of-river |
| FERC No. | P-2519 issued 1993, expires 2034 |
---
Certification History
November 22, 2016 – LIHI Executive Director Michael J. Sale, using authority delegated from the LIHI Governing Board, has issued a Preliminary Certification Decision that the North Gorham Hydroelectric Project (FERC No. P-2519) satisfies the LIHI Certification Criteria.  This Preliminary Certification Decision includes two facility-specific conditions, as follows:
Partially Satisfied 2021 Condition 1; Within 90 days of LIHI certification, the Owner shall proactively initiate discussions with MDMR and USFWS regarding future construction of an upstream fish passage facility for American eel at the site and implementation of appropriate measures to facilitate safe downstream passage for American eel. The siting and design work on the upstream passage structures shall be initiated within the first two years of LIHI certification; construction and operation shall be completed as soon as practicable, but no later than the end of the five-year LIHI certification period. The facility shall be designed, sited, and constructed in consultation with and approval from the MDMR and USFWS. Within three years of the issuance of this certification, the downstream passage measures timeline shall be established in agreement with the resource agencies and a formal commitment for installation at a future date shall be made. If additional time is needed to accommodate required design activities, regulatory approval, or other extenuating circumstances beyond the control of the Owner, an extension may be requested (extension requested and granted December 18, 2019). The Owner shall provide LIHI with an annual report on the status of these actions, along with the plan, schedule and status of new fish passage implementation, as part of their annual compliance statement.
Condition 2: The Owner shall proactively contact the MIF&W and USFWS a minimum of 60 days prior to any construction activities affecting lands not already developed or structures that may provide roosting habitat for the Northern Long-eared Bat, to determine if any special measures are needed to ensure no or minimal impact occurs to state and/or federally listed protected species identified as possibly occurring at the site. The MIF&W shall also be contacted within 60 days prior to any planned drawdown of the impoundment that would expose a significant portion of the river bottom, to avoid impacts to the Brook Floater. The Owner shall work with the MIF&W and USFWS to implement appropriate measures should they be needed. The Owner shall advise LIHI of any such events, including the results of any activities conducted to minimize such impacts. Such notification shall be provided as part of the annual compliance statement to LIHI.
As provided for in Section 4.2.5 of the LIHI 2nd Edition, the Preliminary Certification Decision to certify, along with the Application Reviewer's report and (if prepared) report of the Executive Director, will be posted on the Institute's Web page for 30 days.  Notice of the posting will be provided to all individuals or organizations that commented on the initial Application Package.
Any Commenter may submit a letter to the Executive Director requesting an appeal within the 30-day period.  The appeal request must state specific reasons why the hydropower facility should have failed one or more criteria.  If an individual or organization did not comment on the initial Application Package, they may not file an appeal.
If no appeal is requested within the 30-day period, the Executive Director will issue LIHI Certification for the facility and post a notification of certification on the Institute's website.  Once final, the effective certification date for the North Gorham Project is April 27, 2016 for a five (5) year term, which will expire on April 27, 2021.
August 5, 2016 – On April 27, 2016, the Low Impact Hydropower Institute (LIHI) received a complete application from Brookfield White Pine Hydro LLC  for the Low Impact Certification of the North Gorham Project, FERC P-2519, located on the Presumpscot River, 19.5 miles from head-of-tide at Smilt Hill Project, in Maine.
LIHI is seeking public comment on this application.  Specifically, we are interested in knowing whether you think the North Gorham project continues to meet the LIHI Low Impact Certification Criteria.  Please review the program and criteria in LIHI's revised Handbook and then review the Project's 2015 application materials posted on the project page.  Comments that are directly tied to specific LIHI criteria (flows, water quality, fish passage, etc.) will be most helpful, but all comments will be considered.  Comments may be submitted to the Institute by e-mail at comments@lowimpacthydro.org with "North Gorham Project Comments" in the subject line, or by mail addressed to the Low Impact Hydropower Institute, PO Box 194, Harrington Park, New Jersey 07640.  Comments must be received at the Institute on or before 5 pm Eastern time on October 7, 2016 to be considered.  All comments will be posted to the web site and the applicant will have an opportunity to respond.  Any response will also be posted.