LIHI Certificate #127 – Crocker Dam Project, MA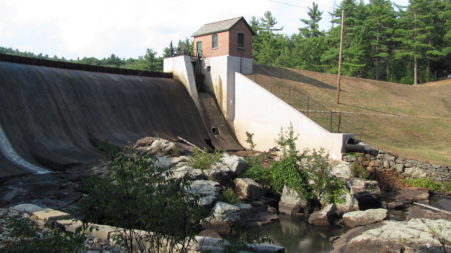 The Crocker Dam Hydroelectric Project ("Project") is a 145 KW located on river mile 2.5 of the Whitman River in Westminster in Worcestor County, Massachusetts. The project is located at the existing Crocker Pond Dam, built in 1933 to provide water supply for the former Crocker Paper Company and predecessors for industrial purposes. FERC issued an Order Issuing License (Minor Project) to the Project on September 5, 2012, and issued a two‐year extension to commence construction on July 29, 2015. The project is required to commence construction by September 5, 2016 and be completed by September 5, 2019.
The project consists of: (1) the existing 520‐foot‐long, 38.5‐foot‐high earthen embankment and masonry Crocker Pond dam with a 120‐foot‐long arched spillway section topped with 26‐inch‐high wooden flashboards; (2) a 102.9‐acre impoundment with normal water surface elevation of 752.66 feet above mean sea level (msl); an 8‐foot‐wide, 12‐foot‐high floodgate; (3) a 3‐foot‐wide, 3‐foot‐high mud gate; (4) a gate house equipped with an existing 47‐foot‐long, 42‐inch‐diameter penstock and a new 18‐foot‐wide, 6.5‐foot‐high metal trashrack with 1‐inch‐wide bar spacing; (5) a 42‐inch‐diameter penstock extension; (6) a new powerhouse containing one 145‐kW turbine generating unit; (7) a new 20‐foot‐wide, 6‐foot‐deep, 35‐foot‐long tailrace; (8) a new 240‐foot‐long, 480‐volt (V) transmission line; and (9) appurtenant facilities. The project is a true "run‐of-river" project with the powerhouse located adjacent to the impoundment creating a very short (~50 ft.) bypass reach. In addition, the project is required to operate on an instantaneous run‐of‐river mode per the FERC license requirements.
The project boundary encloses the dam, impoundment, gates and gate house, penstock, powerhouse, tailrace, and a portion of the transmission line.
The project license authorizes 145 kW of renewable energy and requires a number of measures to protect and enhance environmental resources at the project. These measures include: (1) run-of-river operation with operation compliance monitoring; (2) water quality monitoring; (3) erosion and sediment control; (4) minimum flows during impoundment refilling; (5) a trashrack to avoid fish entrainment; and (6) consultation if previously unidentified archaeological or historic properties are discovered during the course of constructing, operating, or maintaining project works.
The Whitman River is located in the Upper Worcester Plateau ecoregion of central MA, and comprises part of the Nashua Watershed. The River originates at the outlet of Lake Wampanoag and drains southeasterly until it reaches the confluence with the North Nashua River in Fitchburg, MA. Topography is hilly throughout the subregion, and streamflow has significant seasonal changes. The River is approximately 8.4 miles long and occupies 28.25 square miles of land, of which 72% is forested. Less than 10% of the land use consists of impervious surfaces, limiting the impact of traditional non‐point source contaminants (pesticides, fertilizers, asphalt, human waste, etc.) The Whitman River supports a variety of resident fish and other aquatic resources, including freshwater mussels. There are no historical records of migratory fish at the project site, but State and Federal Resource Agencies have ongoing efforts to restore anadromous fish populations in the greater Nashua River watershed. After recent fish surveys revealed the presence of reproducing trout in the area, the MDEP is planning to change the definition of the site from warm‐water fishery to cold‐water fishery. This change has not yet been made, however cold water standards are still used in the WQC per statute and the area is managed as a cold‐water fishery.
Crocker Pond comprises approximately 105 acres, and the depth of the reservoir is approximately 25 feet at the dam. There are no plans to modify the existing reservoir or change reservoir operations, which are currently run‐of‐river. The shorelines surrounding the reservoir consist of heavy vegetation including wood lands, brush and weedy thicket sub‐growth. According to the applicant, there are "no anticipated soil movements or other forms of instability evident in the area." The only construction activity impacts will include the installation of powerhouse and draft tube underground and slightly into the land adjacent to the stream course. The FERC License notes applicant proposes to use best management practices to control soil erosion and sedimentation during construction. The Westminster Conservation Commission, the entity responsible for administering and enforcing the Massachusetts Wetlands Protection Act, issued an Order of Conditions for the project, establishing the basis for watershed protection for the facility.
| | |
| --- | --- |
| Project Name | Crocker Dam |
| LIHI Certificate No. | 127 |
| LIHI Certificate Term | September 15, 2015 - September 15, 2020, extended to November 30, 2020 |
| Owner | Whitman River Dam, Inc. |
| State | Massachusetts |
| Location | Located at river mile 2.5 on the Whitman River in Westminster, MA. |
| Installed Capacity | 0.145 MW |
| Average Annual Generation | 887 MWh |
| Facility Type | Run-of-river |
| FERC No. | P-13237 issued 2012, expires 2052 |
---
Certification History
August 28, 2020: The Low Impact Hydropower Institute has received a complete application for Low Impact recertification of the Crocker Dam Hydroelectric Project. The complete application can be found below.
LIHI is seeking public comment on this application. Comments that are directly tied to specific LIHI criteria (flows, water quality, fish passage, etc.) will be most helpful, but all comments will be considered. Comments may be submitted to the Institute by e-mail at comments@lowimpacthydro.org with "Crocker Dam Project Comments" in the subject line, or by mail addressed to the Low Impact Hydropower Institute, 329 Massachusetts Avenue, Suite 6, Lexington, MA 02420. Comments must be received on or before 5 pm Eastern time on October 27, 2020 to be considered. All comments will be posted to the web site and the applicant will have an opportunity to respond. Any response will also be posted.
December 4, 2015: LIHI Executive Director Michael J. Sale, using authority delegated from the LIHI Governing Board and a full review of the Application Reviewer's report and all public comments and additional materials provided by the Applicant, has certified that the Crocker Dam Hydroelectric Project (FERC No. P-13237) satisfies the LIHI Certification Criteria. A Preliminary Decision was announced on December 14, 2015, and a 30-day appeal period was open through January 14, 2016. No requests for appeal were received. This Certification Decision includes five facility-specific conditions, as follows:
Satisfied 2020 - Condition 1.  Within 3 months of turbine installation, the facility owner shall send LIHI a copy of the plan they submit to MDEP for monitoring run-of-river operation.  The owner shall notify LIHI when plan has been approved by MDEP.
Satisfied 2020 - Condition 2.  Within 3 months of turbine installation, the facility owner shall send LIHI a copy of the plan submitted to MDEP for monitoring and maintenance of the 6 mg/l dissolved oxygen standards, and shall notify LIHI when that plan has been approved by MDEP.
Satisfied 2020 - Condition 3.  In accordance with applicable Water Quality Certificate, the facility owner shall install full-depth, one-inch clear trashracks with velocities less than or equal to 2 feet per second at the intakes to reduce impingement and entrainment of fish at the facility.
Condition 4.  The facility owner shall notify LIHI within 30 days of any decision by relevant fish resource agencies (MDFW and/or USFWS) that would require the installation of fish passage facilities.
Condition 5.  The facility owner shall notify LIHI when the facility comes online and begins producing electricity.  This notice shall occur as soon as possible and no later than 30 days after startup.
The effective certification date for the Crocker Dam Project is September 15, 2015 for a five (5) year term, which will expire on September 15, 2020.
September 21, 2015: On September 15, 2015, the Low Impact Hydropower Institute (LIHI) received a complete application from Whitman River Dam, Inc. for the Low Impact Certification of the Crocker Dam Hydroelectric Project, FERC No. 13237, located on the Whitman River in Westminster, Massachusetts.
Files:
2020 Recertification

2015 Certification