LIHI Certificate #178 - Freedom Falls Project, Maine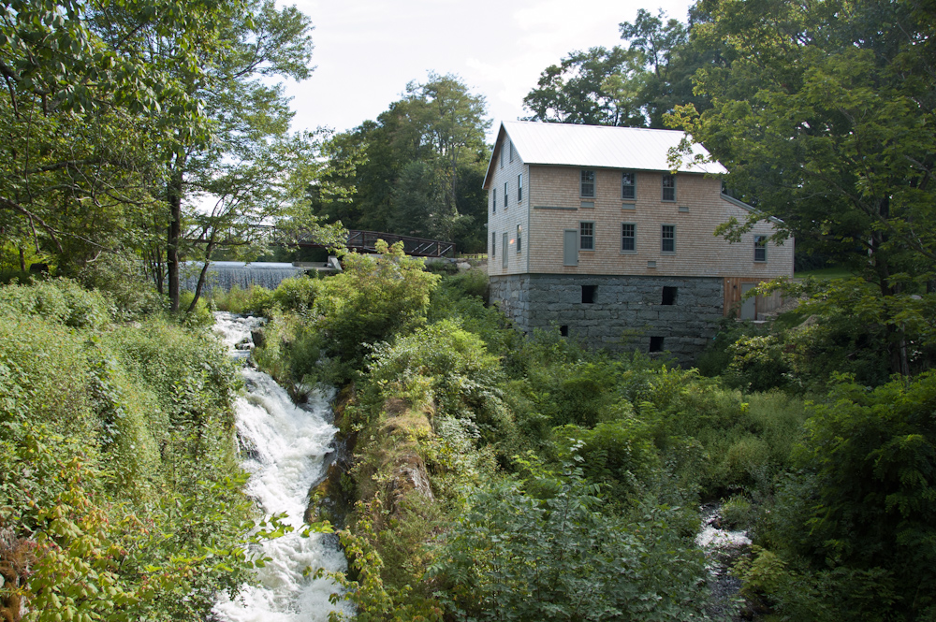 The Freedom Falls Hydroelectric Project is located on Sandy Stream in Freedom, Maine, a small rural town in Central/Mid-Coast Maine, northeast of Augusta, in Waldo County. The site also houses The Mill School and The Lost Kitchen restaurant. The original dam structure dates back to 1834 when a gristmill was constructed on Sandy Stream. The property operated as a gristmill from 1834 to c. 1894 and then as a woodturning mill from c. 1894 to c. 1967. From 1967 to 2012, the Mill at Freedom Falls was abandoned. In 2012, the Mill was purchased by the current owner. Rehabilitation was completed in 2013, which included the addition of hydropower generation. Two dams lie upstream of the project, Sandy Pond #2, a breached dam owned by the project owner, and Sandy Pond #3, owned by the Town of Freedom. No dams are located downstream of the project before Sandy Stream and subsequently 25-Mile Stream join the Sebasticook River, a tributary to the Kennebec River.
The project includes a dam, penstock, powerhouse, one turbine, and a short bypassed reach.
The dam is a 12-foot tall, 90-foot-long stone masonry concrete-capped structure. There are no flashboards. Water is conveyed from the dam to the powerhouse through a 60-foot-long penstock that creates a short bypassed reach in Sandy Stream. The powerhouse contains one turbine with an installed capacity of 0.35 MW. This fish-safe propeller turbine, a Natel Energy Restoration Hydro Turbine, was installed in December 2019 replacing the formerly installed Natel linear Pelton machine installed in 2017. Natel wanted to have their latest, most efficient, fish-safe, and reliable design at this site - their east coast demonstration site. This project includes upstream and downstream passage facilities for American eel. Average annual generation is approximately 65 MWh per year.
The project operates in run-of-river mode and impounds a 1.6-acre mill pond downstream of Sandy Pond. Pond level sensors on the upstream face of the dam send readings to a turbine control system which ensures instantaneous run-of-river operations. The project provides a 3 cfs spillway flow to maintain aesthetics of the spillway and keeps the bypassed stream be watered. This flow regime is based on conditions stipulated by the US Department of Interior under the FERC license for the project.
Waters within the project reach are not listed as impaired by the State of Maine. Sandy Pond is considered eutrophic based on chlorophyll-a and phosphorus concentrations but run-of-river operations and minimum flows at the project ensure that operations do not adversely alter water quality.
Project Name
Freedom Falls
LIHI Certificate No.
178
LIHI Certificate Term
November 3, 2020 - November 2, 2030
Owner
Freedom Falls, LLC
State
Maine
Location
River Mile 10, Sandy Stream
Installed Capacity
35 kW
Average Annual Generation
65 MWh
Facility Type
Run of river
FERC No.
P-14421, exempt issued 2013
There is no historical record of diadromous fish, other than American eel, in Sandy Stream. Maine Division of Marine Resources is undertaking an anadromous fish restoration plan for the Kennebec River basin though downstream dams currently preclude access to Sandy Stream. The project has been actively collaborating with US Fish and Wildlife Service (USFWS) to design upstream passage facilities for American eel. Installation occurred on May 1, 2021. Sandy Pond (above Dam #3 referenced above) is a warmwater fishery with resident fish species including largemouth bass, white sucker, brown bullhead, chain pickerel, golden shiner, white perch, and yellow perch. Trashracks at the Mill dam with 3/4-inch clear spacing mitigate the potential for entrainment. Downstream eel passage is provided by a bypass pipe adjacent to and near the bottom of the turbine intake. The bypass is operated from sunset to sunrise during the period of August1st through October 15th annually, water conditions permitting.
PLUS-Standard: The project is the site of the first commercially operational Natel Restoration Hydro Turbine (RHT). The RHT MS D55 installed at Freedom Falls is part of a family of turbines at full size (greater than 1 meter diameter) that are able to safely pass large fish at low head hydropower projects. For fish that could get through the trashrack and become entrained, the RHT minimizes injury and mortality through the unit's unique design features. Survival has been tested in laboratory settings to be 99% or greater.
The project lands consist of 0.25-acre with another 2.5 acres abutting the impoundment under project ownership. This land area is generally large forest area with some wetlands, and lands are used by The Mill School for outdoor educational resources. The shoreland zone upstream around Sandy Pond has been developed into camping lots, seasonal camps, and a few residences. No lands of significant ecological value exist in the project area.
Threatened or endangered species potentially present in the project vicinity include the Northern long-eared bat, little brown bat, eastern small-footed bat, big brown bat, red bat, hoary bat, silver-haired bat, tri-colored bat. Consultation with Maine Division of Inland Fisheries and Wildlife (MDIFW) noted that two Significant Wildlife Habitations for Inland Waterfowl and Wading Bird Habitats exist upstream near Sandy Pond. These habitats are well outside the project area as noted by MDIFW and the Maine Natural Areas Program and Department of Conservation reported no rare botanical features would be disturbed within the project site. The project does not typically need to conduct tree cutting though if needed, the project owner has committed to adhering to the USFWS 4(d) rule concerning protection of bat roosting habitat. Run-of-river operations and the project's small footprint indicate that it is unlikely to impact any listed species.
Cultural resources in the project area include the Mill at Freedom Falls building. The Mill was built by John True in 1834 as a gristmill using hydromechanical power from the stream to produce about 8,000 bushels of grain per year. In about 1894, the building was converted to a wood turning mill making wood tool handles, dowels, etc. To accommodate this growing business, various additions for materials handling, shipping, and the like were added over the years. This business closed in 1967 and the mill was abandoned at that time. The Mill Building was listed on the National Register of Historic Places in 20212 based on its status as an exemplary demonstration of early mill construction and its role in the economic history of the Town of Freedom in the 19th and early 20th centuries.
PLUS-Standard: The Mill Building has been fully restored and this rehabilitation was completed in consultation with the Maine State Historic Preservation Office and according to National Park Service Standards in order for it to qualify for State and Federal Historic Tax Credits. This rehabilitation included rebuilding of foundation walls, repair of the timber frame structure, replacement of windows, restoration of the exterior and additions, and providing modern amenities while keeping with the historic nature of the building. The building is currently occupied by a restaurant, museum/wine store and The Mill School, along with the powerhouse for hydroelectric generation. This restoration effort was documented in a film, Reviving the Freedom Mill. Maine Preservation also presented a 2013 Honor Award for adaptive use of the Mill at Freedom Falls for "the work in realizing the potential of the town's hidden gem, funding and managing its restoration, and working with the community to share the triumph."
Recreational resources are limited due to the generally inaccessible area and steep banks as well as safety fencing. The four-mile stretch from the downstream side of the dam to Unity Pond is listed by American Whitewater as Class II and III rapids. Sandy Pond is used for boating, fishing, and snowmobiling. A public boat launch provides access. Public access is provided free of charge where direct access is available and does not cross other private lands.
---
Certification History
February 23, 2021: The Low Impact Hydropower Institute has issued a final decision on the certification of the Freedom Falls Hydroelectric Project. The project is located on the Sandy Stream in Maine. The Freedom Falls Hydroelectric Project is now deemed certified by LIHI. The effective date for the certifications is November 3, 2020 for a ten (10) year term, which will expire on November 2, 2030.
The Certificate includes the following condition:
Condition 1: The facility Owner shall notify LIHI within 60 days of completion of the upstream eel passage expected to be installed by May 1, 2021. The notification shall include copies of any approvals received from DOI and/or Maine DMR of the final design and installation.
January 21, 2021: The Low Impact Hydropower Institute (LIHI) preliminarily approved Low Impact Certification (pending LIHI #178) for the Freedom Falls Hydroelectric Project located on Sandy Stream in Maine.
This decision is preliminary pending the 30-day appeal window. Only those who commented on the initial application during the 60-day comment period are eligible to file an appeal. Such appeal needs to include an explanation as to how the Project does not meet the LIHI criteria. Appeal requests can be submitted by email to comments@lowimpacthydro.org with "Freedom Falls Project" in the subject line, or by mail addressed to the Low Impact Hydropower Institute, 329 Massachusetts Ave, Suite 6, Lexington, MA 02420. All requests will be posted to the website. The applicant will have an opportunity to respond and any response will also be posted. Requests must be received by 5 pm Eastern time on February 19, 2021.
The full application and review report are available below. If no appeal requests are received the certification term will be November 3, 2020 through November 2, 2030.
November 9, 2020: The Low Impact Hydropower Institute has received a complete application for Low Impact Certification of the Freedom Falls Hydroelectric Project. LIHI is seeking public comment on this application. Specifically, we are interested in knowing whether you think the Project meets the LIHI Low Impact Certification Criteria, as revised in the 2nd Edition Handbook. Please review the program and criteria in LIHI's revised Handbook and then review the Project's application materials below.
Comments that are directly tied to specific LIHI criteria (flows, water quality, fish passage, etc.) will be most helpful, but all comments will be considered. Comments may be submitted to the Institute by e-mail at comments@lowimpacthydro.org with "Freedom Falls Project Comments" in the subject line, or by mail addressed to the Low Impact Hydropower Institute, 1167 Massachusetts Avenue, Arlington, MA 02476. Comments must be received on or before 5 pm Eastern time on January 8, 2021 to be considered. All comments will be posted to the web site and the applicant will have an opportunity to respond. Any response will also be posted.
---
Files:
2020 Certification